Store
Tallsome Tales is the Carnivaleros' 6th release, comprised of 9 songs of bad luck and love along with 3 instrumentals.

"Delicious, infectious music, especially through those magnificent arrangements. An absolute must." – Holly Moors, Moors Magazine, The Netherlands, 2018

Click on the 'buy' button below the CD cover to purchase your own copy directly from the band!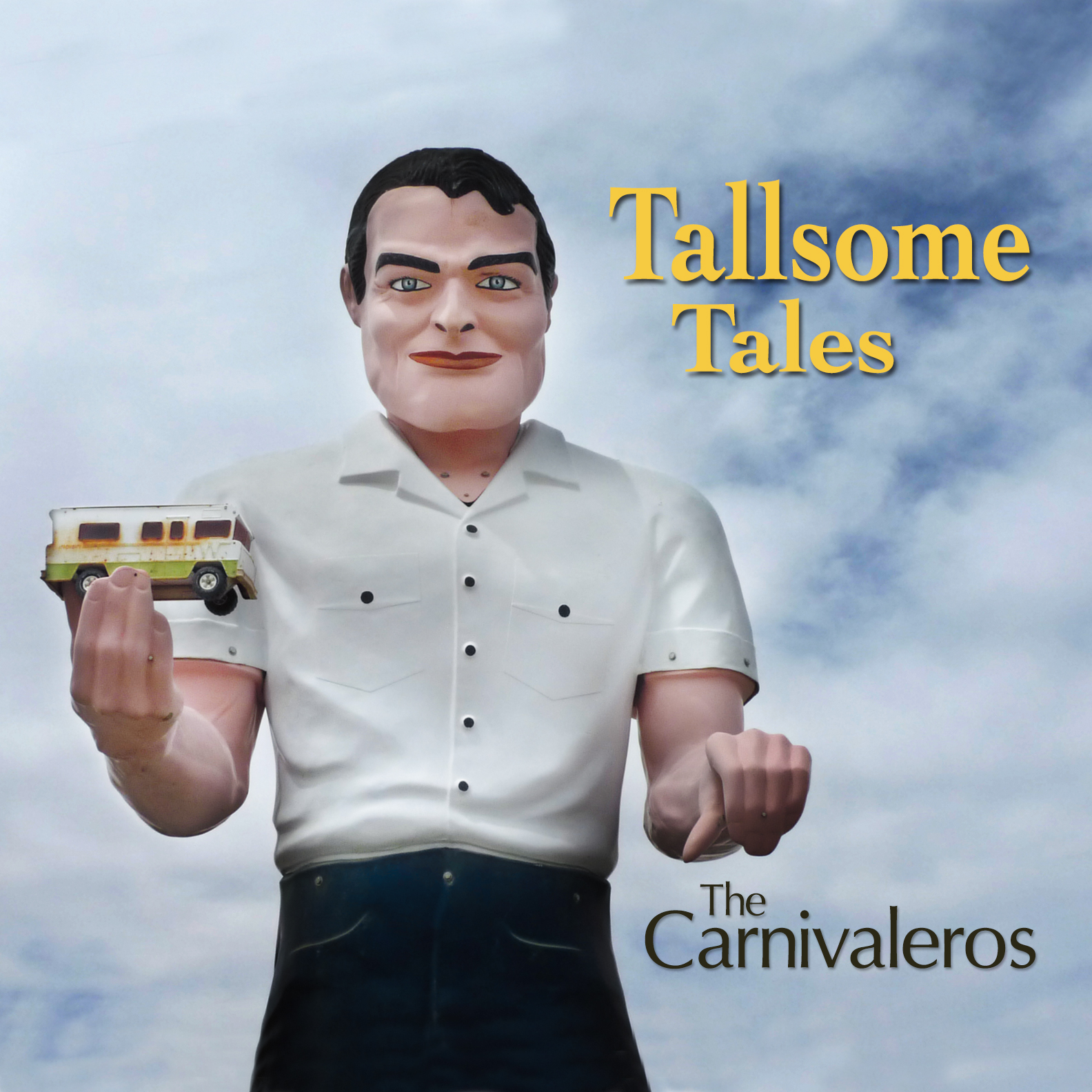 Click here to purchase Tallsome Tales
---
---
Tallsome Tales Reviews
---
"Let's Dance
and
Rudy Got Caught Again
would not have been out of place on Kiko of Los Lobos." - Theo Volk, Music That Needs Attention blogspot, 2018
---
"Lit up like Christmas. Irrational, skin crawling drunk. It's 3 a.m. and you stop the car, that you absolutely should not be driving, for a clown crossing the road. "Don't be afraid of the clowns," a still small voice whispers. Real or imagined? A "Wild West" themed guitar lick serves as foil to Carnivalero Gary Mackender's narrative. "Wake up in the morning and wonder where you are/There's a stranger next to you and a beat up old guitar/Burnt out candles by the bed, some soggy cigarettes/A couple empty bottles, several classic rock cassettes/It seems like I've been here... before." Mackender confesses, "I actually have no idea what this song is about." "What? You wrote it... own it," counters fellow Carnivalero Björgvin Benediktsson. "Oh yeah, it's autobiographical. This song is about... waking up and wondering what the hell happened?" Mackender concedes, scratching his head. "Where am I? Are these even my pants?" For the vocal track on "Liquor, Vice and Sin" Mackender strove to capture the feel of a carnival barker hawking through a megaphone. You can see the carnival midway lights in your mind's eye as the polka beat hop-steps along. A mix of bad luck and love with strains of what could pass for an Ennio Morricone film soundtrack, Tallsome Tales is the latest in that series for these neo-folk stalwarts. Carnivaleros raise a glass to honor the release of their sixth album, Friday, April 6 at Monterey Court. And the story goes on..." - Xavier Omar Otero, Tucson Weekly, April, 2018
---
"
Liquor Vice and Sin
which opens this set is vintage Carnivaleros with Mackender spewing lyrics as if he was a real life carnival barker presiding over a seedy Midwestern carny. The instrumental bridge in fact, sounds like something you might actually hear on the midway.
Let's Dance,
which follows, finds us knee deep in in New Orleans style funk, complete with second line drumming for an intro, and some fat horn charts courtesy Mackender's brother Greg. These parts which jump right out of the speakers, are all played to perfection by Carla Brownlee, Mike Coyle, and Michael Oliver on saxes, trumpet and trombone respectively." - Jim Lipson, Zocalo Magazine, April, 2018
---
---